Information stall at De Brus Group seminar
March 16 @ 1:00 pm

-

4:00 pm

£5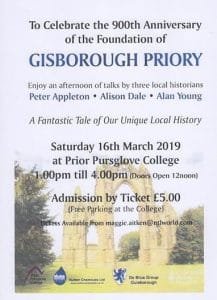 The de Brus Group is organising an afternoon of lectures which will cover Guisborough's unique medieval history and the links between the Priory and the de Brus family with their dominance of the whole cross border area at the time. We will have a display at the seminar.
The lectures will be held Saturday 16th March 1.00pm – 4.00pm at Lecture theatre of Prior Pursglove College, which is situated next to St Nicholas Church and Gisborough Priory with three speakers, £5 per ticket with free parking and disabled access. Tickets to be purchased before the event from Margaret Aitken by email.
Lectures
Peter Appelton – "Before, During and After" will cover who Robert the Bruce was and how he came to be involved in this story.
Alison Dale – "An Augustinian Jewel; St Augustin, the de Brus family and the priory in Guisborough". Will concentrate on the Augustinian Order; why the de Brus family chose to find a priory for this particular order and the consequences of that for the town and also for the Prior and remaining canons at the reformation.
Allan Young – "The last Brus burial in Gisborough Priory, 1295: the end of an era" – links to King Robert the Bruce and Gisborough Priory at the outbreak of the War of Independence.